Daily Kibble Giveaway: WIN a $50 SassyWoof.com Gift Card! 5 winners!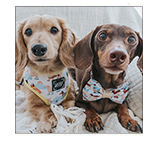 Sassy is as Sassy Does
Are you looking for thoughtfully designed and well-constructed styles for your dog to wear? Look no further than the jazzy offerings from Sassy Woof! Each wardrobe collection they produce is charming, comfortable, and chic. Based out of Washington, DC, this amazing company really has great values that you (and your dog) can get behind. Over the years, its founders have donated to a wide range of organizations dedicated to rescuing and helping dogs. For every harness sold in 2021, they have even committed to help feed one shelter dog!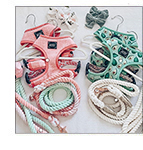 Perhaps the coolest thing they offer is the Puppy Growth Pawtection Plan. It's unlike anything we've ever seen! Simply sign up, outfit your puppy in something adorable by Sassy Woof, and trade in the goods for a larger replacement when the time arises. They'll donate the used items to local dog charities to keep the good times rolling. Talk about sassy—AND sustainable!

Sassy Woof
It pays to subscribe to Daily Kibble. 5 lucky Daily Kibble subscribers will each WIN a $50 SassyWoof.com Gift Card. Entries will be accepted between now and April 9, 2021. The lucky winners will be chosen on April 12, 2021. Good luck!
Today's Daily Kibble email is sponsored by the featured company.